Busy weekend with lots going on, including DH feeling under the weather again. I got a couple of cards started, some, (ugliness abounding) finished, (and not posting those...bleccchhh!), and ideas for others pinging around in my brain. Those that I started I liked, so only had to put the finishing touches on them today. It was fun. Cardmaking generally is though...
Fellow BABE and dear friend
Darnell
, is GD at
City Crafter Challenge Blog
this week. Absolutely HAD to play along! The theme at
CCCB
is "washi tape." I think I made about, oh, seventy leven butt ugly cards, which you won't see here. Desperately needed some inspiration, so I hopped on Pinterest to get a little. More ugly cards by me from lovely pins. Nearly gave up, but thought, "oh heck, one more peeksie doodle, and if nothing 'hits', then I'll email
Darnell
and say sorry." Then I found this one....
*sigh*
Fell in love with it. I'm guessing you love it too (can I get an AMEN??!!). Then, after wiping the drool from my chin, and tears from my eyes, I saw the artist's name...yep. Lynn of
The Mango Boys and Me
fame. So I'm hoping she doesn't mind my CASE of her sweet, sweet card. Same, yet different.
I didn't pop anything up except for my little flower. Started with a Michaels white base, a piece of black cardstock, and another white for my panel. Cut the rectangle with an MFT die and added a scrap piece of gingham. Green polka dot washi, W Plus 9 sentiment and flower. Pretty easy. Thanks for the inspiration, Lynn!
Next card is for
Time Out Challenge
. They're celebrating their first birthday, and I thought a 'thank you' card would be appropriate because they've got a great DT, and always have fun challenges. I don't always get a chance to play, but I always enjoy going over and checking out the cards! Happy Birthday
Time Out
! The minute I saw their inspiration photo, a
ping
blasted my brain, and I knew exactly what my card would look like.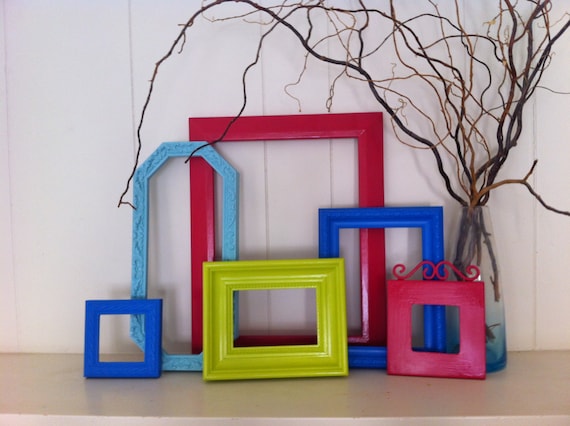 What do you see? I saw lots of white space with yummy colors. I kept my card pretty CAS.
An aqua base with a Michaels white panel. I used all AE stamps for this one from the 'Oh Happy Day' set. Several inks in colors similar to the frames, then some brown ink for the 'branchy' sentiment. Three white sequins and done. Poor lighting here, but they are actually pretty matchy-matchy. I'll stop now. It's a beautiful Monday. Happy dances everyone.