Saw in the paper this morning that it's about 72 degrees in Phoenix. Some of our family members are visiting down there...such a shame too...it's in the mid-20s here, with 6-10" of snow expected. Gosh! Who'd want to miss that???!!!! My car is in the garage, and unless a dire emergency arises, it's going to stay right there, with me in my craft room listening to the college games on TV today. I'd rather listen to HGTV, but DH has control of the remote, and I have no chance whatsoever, of changing the channel. It's just as well. For some reason, I can craft really well listening to whatever game is on. Make it a Cubs game, and I can make a winner! Hope you all had a beautiful Christmas, and that your New Year is chock full of blessings.
I've been absent a bit in blog land as of late. Even though we had a quiet Christmas, somehow it got busier than I expected it would. I wish you all could have seen my little Sunday School children on Christmas Eve. They were so sweet, and sang like angels. DH and I lost our printers last week. Both died. At the same time. Oh poop! Spent a couple of days hooking up my new one wirelessly (had to get our internet provider out to the house), and am waiting for DH's to be delivered. His will be hardwired... Woke up with a whopper YKW (stands for "you know what" and = migraine) yesterday. But woke up today in fine fettle. I will get to commenting on your blogs after I go up and fix a document for DH.
Oh, and I actually have a couple of cards! Who knew?! There are a couple of challenges that I want to play in. Let me apologize in advance for the poor lighting in the photos. As I mentioned, it's snowing out, so my lighting (and I even added extra) is poor. Both are going into
CAS(E) this Sketch
, and one will make it into
Simon Says Stamp Wednesday Challenge
.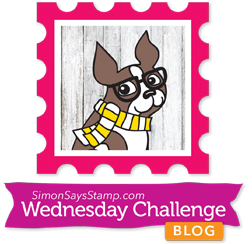 The first one is a very simple thank you card. It will be sent out as a Christmas thanks.
White base topped off with a kraft panel. The "thanks" was cut with my Cameo, and then I added a few blue and green blings from momento. EZPZ. I chopped the panel off at 4". Gina K. kraft, and Neenah white. This one is just for
CTS
.
This next card is for our oldest son and his wife. They are expecting baby #2 in May, and just found out that they're having a boy! Big sister Kelly who is 4, is excited about being a big sister. This makes grandchild #20 for us. We're so excited for them.
See what I mean about crummy lighting???!!! I think this was the third photo, and then I gave up trying to improve it. Without the flash, it looked brown, but the panel is actually this rich deep wonderful gray. White base with that lovely gray panel, and I used my NBUS Swiss Dots die from MFT. I absolutely LOVE this die. MFT fishtail flag dies, MB letter dies, and an old heart punch. The base is Neenah, and the rest are just scraps, including the heart which is a smidge of glitter paper from DCWV. And that's about it for me for now. Who knows, if I can fix DH's document in a fast hurry, maybe there will be more time in my craft room today. Happy (New Year) dances everyone.