I've been away. Not by choice either...And not "away" away; migraine away. And company's coming, so I've been trying to catch up with getting ready for that as well. Oldest son, dear dil, and little Kelly are coming in from Phoenix this afternoon for a bit over a week. Very excited, but those darn y.k.w. had me down for five days and I couldn't shake them until yesterday which turned into the mad cleaning frenzy. You know exactly what I'm talking about too....Have missed my little blog and all you wonderful bloggy friends out there.
My sister-in-law, Marilyn, had surgery yesterday with hopes that the main tumor will be gone, and then when her strength is back in a few days she'll have more chemo to shrink tumors elsewhere. I made a little card for her with some new stamps. Had to get that finished - she needs to know we're here for her.
Am playing with
A Blog Named Hero
Victorious Vellum Challenge and
Simon Says Stamp's Wednesday Challenge
.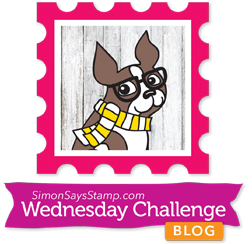 I might be too busy playing with 4 year old Kelly to craft, but we'll see what we all end up doing while they're here! She's a hoot. Hates having her hair brushed and doesn't eat much...Grandma can get her to do both, much to mommy and daddy's amazement! It's that grandma thing! Now, my card:
For some reason, my photo just wouldn't cooperate...a bit washed out, and looks really crooked, which it really isn't...someday, I'm getting a really, really good Nikon again.
I used my brand spankin' new WPlus9 Freshly Cut Florals stamps and dies with some Colorbox and Studio G inks. It's fairly monochromatic, at least in my world. There's a scrap of vellum around the neck of the vase and the sentiment panel is also vellum. I cut the vase with my Cammie (as Geri G. calls hers...), and used some N&T sequins. The one looks really green in this darn photo, but it's not!!! Gotta run, lots of last minute touches before heading to the airport. Happy dances everyone.