Like many of you, I'm making Easter dinner. Only we've decided to have it on Saturday as our two UW granddaughters need to get back to campus on Sunday. Way less rush for them, and I can fully concentrate on the glorious Easter service at church rather than half-think about the ham and whether or not the potatoes will be done if I start them after church. You know what I'm talking about....With that in mind, I'm not sure if I'll be posting until next week.
Even though I'll be cleaning the house before Saturday, no one will be able to tell. New water mains going in on our street, and besides the noise and difficulty getting in and out, the dust is ridiculous. Having the water off at times pretty much stinks too. Hard to clean without water. About half the time, I've got the bathtub full for such uses, but let's face it, I'm spoiled. I turn on the hot water tap, and boom, hot water. Hopefully, they'll be done before much longer. I seriously want to open my windows....
Anyway... I've got some cards to show you. And they're all headed into challenges and off to family and friends! I'll start with this one. Since I haven't played at
Muse
in what seems like ages to me, I thought I'd give
Kristie
's card a go.
I chose the colors and the circle shape for my card.
Michaels white base, and scraps of colored cardstock. A smattering of sequins, and PTI die and stamps. Pretty QACAS (thanks for acronym, Miss D.)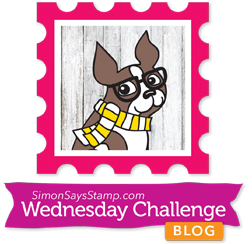 For Less Is More, we're to combine three past challenges. I've chosen Challenge 25 - ribbon, Challenge 38 - Polka Dots, and Challenge 172 - Flowers. SSSWC is "Happy Birthday." And you can see the ColourQ colors... Yummy, yummy Polka Dots at City Crafters, yay!!
I cut a sweet piece of polka dot paper from LF, and adhered it to my Michaels white base. Took scraps to make my tag, banner, and flowers. Used a Cuttlebug polka dot embossing folder and die cut the tag with an SC die. Used an AE sentiment, and RC flowers. The stems are just slivers of green scraps. A few sequins for interest, two kinds of ribbon, though the yellow is hard to see, and ME and Studio G inks. Popped up the tag and the banner. Like it hanging off the edge.
Last card. I promise. This one is going over to CASology, where I have been lax playing as of late. Today's card, is a one-layer.
For this card, (and for all of them, actually...) I stamped the images and sentiment with my brand spanking new MISTI!!! And yep, I like it. Still have to figure out a few things, but overall, it's already saved me paper and time. I made a panel and taped it on top of my Michaels white card base. Using all SC stamps, I placed them where I wanted them and stamped. Colored with various markers before taking the masking panel off, then stamped the sentiment. And that's all there was to it.
Easter Blessings dear friends.