Laundry. I should be doing laundry. But obviously I'm not. Got up early just to hang out in the craft room. After an hour's drive north yesterday (and home again) to have a little cookout at my sister's house, I had a feeling DH would be all tuckered out, and would be sleeping in today. He was, did, and I played and played in uninterrupted quiet. Ahhhhhh.... So naughty of me, I know, but what a feeling of calm. Now I've got some commenting to do, and I need to find my blender. I think it's in a box in the basement, and I really don't want to go down there, because then I'll feel obligated to get to some laundry. But my (as I like to call him) "third best girlfriend" Michael brought over about 500 pounds of tomatoes, and I need to get them chili ready. So maybe if I get a teeny-tiny bit of work done, I can still play in here.....Party Plan. I'm going with it!
I've got two cards today. The first one is for the
Inspirational Challenge
, where we're to use Primary Colors. Thought I'd pop this into
SSS Monday Challenge
, too, where we're directed to use a stamp.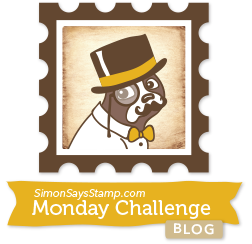 Red, blue, yellow, check. Stamp(s). Check. The blue cardstock is from my scraps file, which delights me to no end! A piece of red striped paper from Simple Stories, and some PTI stamps. A smattering of yellow sequins, a ME scalloped edge die, and done.
And I fell in love with
Curtain Call
's inspiration photo, but alas, alack, I had no apple stamp (at least none that I wanted to use). This will also visit
SSS Wednesday Challenge
, as long as the Anything Goes is still in play.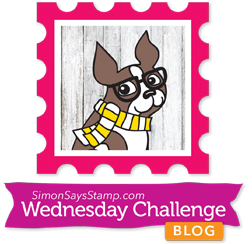 Well, sometimes pears are green, aren't they? And besides, this set from WPlus9 hasn't seen much love lately.
You'll notice there's no sentiment on the front of this card. That's because "I think you're 'pear-fect'" was too big, and I really wanted to emphasize that pear. IRL, the pear really cool looking. I used the large pear die from this set, and just watercolored it with my Ziggies. I was going to fix the leaf, but decided it looked like a dying leaf from a fresh picked pear. An MFT circle die, and red and black starred scraps. Three black sequins and done. And since that stupid old laundry is nagging me (I can practically hear it), I'd better get on the stick. *sigh* Happy dances everyone!