I only have a minute today. Don't know how I ever worked or raised children.... Way too much to do... Two cards and four challenges. Let's get right to it.
My first card will go into
City Crafter Challenge
and into
A Blog Named Hero
. My second card will go into
SSS Wednesday Challenge
and a new-to-me place to play,
Share the Joy Challenge
.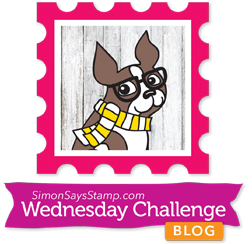 I've got some NBUS going on here:
I picked up this new HA stamp and die set designed by Lia Griffith (the bear & cap & sentiment) comes with more, which I'll use later... LOTS of dies here in this little scene. AE frame, LF 'hills,' and trees, HA bear and hat. Cuttlebug ef. LF tree stamps. Copics to color them. HA sentiment. Michaels white, red scrap. Funish.
The next card also uses multiple dies, including a NBUS TE HB banner die, which I've fallen madly in love with. My tic-tac-toe goes down the right side.
Scrap of bright pink on Michaels white base, polka dot scrap cut with ME scalloped die, scrap of teal cut with MFT die, TE HB die (love them!!). Stamped, colored with Copics, and fussy cut three SSS balloons and added some clear Stickles. When dry, I added some black thread and adhered them to the card. Three clear sequins, though they look blue... Birthday, check. Balloons, check. Glitter, check. Dies, check. Gotta run, check. Happy dances everyone.