After I got back from visiting Avery and her family last week, I came home to company. Our dd and sil were here from Phoenix for his niece's wedding. That left no time to craft...and yesterday, after they left (@5:00 a.m.) it was time to catch up on groceries, laundry, and then a granddaughter's swim meet. I did attempt to make a card before the swim meet, but mojo was a no go. Finally got back in the groove this morning. Although my mojo is somewhat limited for now....
I made a card for the
Simon Says Stamp Wednesday Challenge
. They're "going dotty" over there. Use dps, embossing; just make it dotty.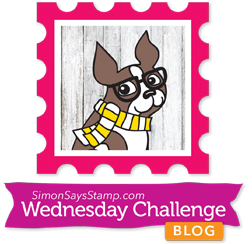 I went starry dotty:
No matter what I did, the image decided it was not going to cooperate well. I must be out of practice. But I think you get the general idea. The 'happy' was cut using my NBUS die from MFT. I smeared glue all over it, and sprinkled green glitter. While that dried, I covered the front of the base with some Doodlebug dp, cut a white mat, and a black mat from some scraps, and used my Cameo to create a little tag. The ribbon was in my last order from Ellen Hutson, and I used some KF twine. The 'Halloween' is more NBUS - a masked off sentiment from Newton's Nook stamps. Once the 'happy' was dry, I put it all together. I like how it turned out. This will be a good one to send to the college girls. Happy dances everyone.