Yesterday, and thus far today, I am YKW free!!! I'm so happy I could just dance...(sorry). I am seriously happy about that. Running out of rescue meds until next week, so it's really important that they go away for a while. That's the first thing. And as you may be aware, my sil, Marilyn has been battling stage 4 cancer. It's in her abdomen, wrapped around her omentum and involved her colon and a bit of her duodenum. It has also metastasized to one of her kidneys and to her liver. Sounds bad, doesn't it? She's had two bowel resections, without a colostomy (thank goodness) done at the same time, and some serious chemo. The doctors are surprised...and while she's not completely cancer free, everything has ground to a halt. Her prognosis has been upgraded, and she's no longer considered imminently terminal!!! She describes her condition as like that of a diabetic patient. Her condition will need to be monitored for the rest of her life, but there is no longer the threat of a truncated life span!!!! I am so thankful. Very happy for her. Thanks for all your prayers and kind wishes. I know, with absolute certainty, that they have helped.
It finally felt right to make her a "get well" card, as opposed to a "thinking of you" card. So I did. And it fits nicely into two challenges. The first is
Wednesday Stamp Club Sketch Challenge
at My Favorite Things. I've used all MFT stamps, including a new one (freebie!!!woohoo). The second challenge is
Simon Says Stamp's Wednesday Challenge
, where we are to use either wet and/or dry embossing.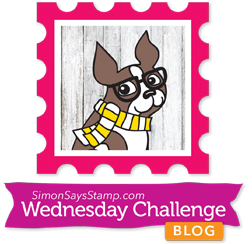 Debby Hughes created something special for this, and I'm not going to post it here because you should pop over to SSS and see her card, and all the other wonderful lovlies for your own self! I will show you mine, however...
Again, I apologize for the poor lighting. It seems that no matter what I did, it didn't come out like I wanted...crap! Anyhoo...The cute little nurse, and the polka dots are both MFT stamps. I stamped an apron on a dp scrap, fussy cut it, and slipped it under her clipboard. I colored the rest of her with Copics (how'd I do Kylie?!). I made my own red cross badge my own darn self with my Cameo (big step for a beginner!), and cut the bandaid out too. I used a Cuttlebug embossing folder on the red (in tribute to Arielle!), and added three MME enamel dots in the corner. I think that's all...And so, with that, happy dances everyone.