Well, how do you like that? Mr. Mojo put in overtime yesterday. Could scarcely believe that he hung around long enough for four, count 'em, four projects! And if that weren't enough, he has more plans for today! I'm totally thrilled that there will be two good days of crafting in a row, as the rest of July will most likely be busy with company, and meeting friends for lunch and shopping, and coffee, and outdoor work. Life is good. Really good!
Onto the projects now before this post gets out of hand. So first up is a tag I made for the current
Tag Your It Challenge
. Erin has created this gorgeous tag. Don't you just love that tulip? I didn't have one that I liked well enough, so went with a poppy instead as you'll see.
Mine looks like this.
I found some old LYB dp in my scrapbox, and went with that. In the cardstock scrapbox, I found a snippet of kraft. One more scrap for the poppy - a newsprint piece which I stamped with my NBUS Verve stamps in ME red and Jeni Bowlin blue. There are three PTI raindrops in the poppy's center, which of course you can't see well. The sentiment is also Verve. A few sequins, a bit of tan twine, and a little glittery burlap ribbon and done with this one!
Next is a card that will go into
CASology
. My popsicle card got an HM from the DT, so a big thank you for that! Love playing along at
CASology
, so it was a real treat to see that
this card
had been chosen! Thanks again Melissa, Tracey, and the DT over there. This week's Cue Card is:
I had a completely different idea for this, but the card (with some help from Mr. Mojo) morphed into what you're about to see:
My repeat is the "thanks." Layers of brightly colored cardstock surrounded by a bright yellow panel and more white. The die is from WPlus9, and all the cardstock are scraps except the Michaels white base. A few sequins and another one done! This is sooo happy looking irl.
This next card uses more NBUS which I won playing along with the Coffee Lovers Blog Hop.
Miss dEb Davison
kindly sent the goodies you're about to see. Thanks! I'm playing along with
Simon Says Stamp Monday Challenge
, where the theme is "Coffee or Tea." I'm guessing that many who hopped along with Amy's CLBH will be playing here too!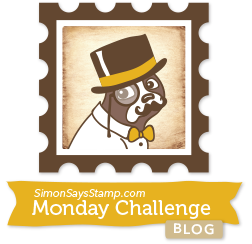 Check it out:
Every single thing, except the inks were goodies from dEb. I started with the little coffee pot (don't you just love it?!), which is painted wood, and is popped onto a Prima 3x4" journaling card with the most enjoyable funky green color sentiment and coffee cup. The green panel behind that, is one I made with the stamp set dEb enclosed. Using my MISTI, I stamped a 4 x 51/4" white panel in a matchy-matchy Studio G green ink. Gotta love it when that happens! I added some VersaColor Sand ink to the edges to pick up the krafty color of the journal panel. It's not my exact style, but going out of my comfort zone is a good thing sometimes. Tell me what you think about this one...
And last, but certainly not least, is my
Muse
card. One of the newest members of the DT, Joan Bardee, has this incredible, incredible card to inspire us, and boy oh boy, the pings started going off in my brain as soon as I saw it. How fun is this??
CAS with lots of interest! My take looks like this:
Right away, I absolutely knew which scrap was going on the front of this card. Sorry I don't know who makes it, but I love this paper. (There's Halloweeny stuff on the back.) It looked like Joan used a ME die, so I did too. I found these brightly colored pleather flowers (which I think are from Target), and used them to pick up the reds and greens of her card. Went with a hand cut flag onto which I used a portion of more winnings, this time from SRM Stickers (thanks ladies!), for my sentiment. A smattering of red blings, and finished! And so am I. Bet you're tired of reading this...so I'll stop. Have a wonderful week, and happy dances everyone.