It is true, there is definitely no place like home. Having been gone most of this week, I am more than glad to be home! The early part of the week was spent watching the four little ones in Madison. Pure delight. Amazing children, and so much fun to be around. No time for me to craft there, even if I had brought goodies along. Just wondering how all you young moms manage to find the time to craft?! Babies, bottles, laundry, sports, after school classes, piano lessons, dinner, work, and everything else....I am in complete awe of all you moms of young children who still find time to create the lovelies I see out there in blogland.
After coming home, I had to make a fast round trip up north. Long drive, short stay, another long drive. Made it though. Had great company along, and hours upon hours of great conversation with my sister Sue. The trip went smoothly and quickly. And since I hadn't had time to
feed my addiction
craft in some time, and since I didn't feel like cleaning or doing the laundry, I thought today would be the perfect day to make cards. Not sure if I hit the mark with any of them, but sure enjoyed creating them.
There are three cards that will be going into multiple challenges, so if you want to bail now, I'll see you later. This first card will visit three challenges:
CAS(e) This Sketch
,
Simon Says Stamp Wednesday Challenge
, and also into the
Lawnscaping Challenge
.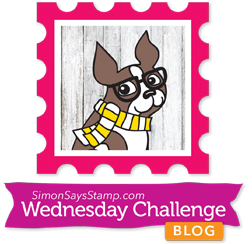 A blingy shaker tag card. Here are the deets: Neenah white base and tag, SC sequins, MS glitter, a scrap of striped dp, a scrap of pink cardstock, MFT "happy" die, PTI "birthday" die, LF tag and star die. LF star stamp, Studio G green ink, a leftover bit of pink ribbon and some green floss.
Card number two fits into
The Card Concept
challenge, and I worked it into
Muse
as well. I'd call this card Clean and Layered, as it's not quite CAS. I was inspired by the overall layout created by Vicki Dutcher, especially the chevrons, white space and left-sided focal point.
Pretty easy to make. Except for the Neenah white base, the cardstock bits are all scraps. A smattering of SC star sequins, Studio G ink (love the way the ink smeared unevenly on the stamps), CTMH stamps, TE polaroid die, and my MFT chevron dies.
And I promise, truly I do, that this is the last card and final challenge of the day. I've wanted to play along at
Curtain Call
for some time now, but haven't had the opportunity. Today changes that! Yippee!
For this, I used my new Gina K. stamps and cut files (for my Silhouette). I used a scrap of peach paper, and stamped them with Versa Color Sand Beige, and marked up the centers with my white pen. I also added some depth with a Copic marker. The sentiment is from PTI, and I added a bit of lace and a peach-colored pearly thing I have had laying around for some time. The stitched frame is from Mama Elephant. I inked the edges of the larger panel in the same Sand Beige. And as promised; done. Happy dances everyone!