Give up yet?! Let me start out by saying that I had the most wonderful Saturday. I drove up to Cedarburg, just north of Milwaukee to meet up with a friend. What a sweet little town. On its main street, Cedarburg has tons of fun shops carrying everything from baking supplies, to shops full of fun and funky items, and let's not forget all the great little restaurants and coffee shops. It's a happy place with a peaceful river flowing through it, and a gentle falls that usually looks like green glass. The leaves around town were beginning to change color, making this a perfect fall day. Even though it was a bit windy and overcast, the predicted thunderstorms held off until later that afternoon. It was there I met up with Ardyth!!! In. Real. Life!! Face-to-face talking. Laughing. Shopping. More talking. Enjoying the bit of time we had together. Imagine trying to fill a scant few hours with as much as possible. Toward the end of our visit, we met up with Courtney, Ardyth's sister, Katie, Ardyth's daughter, and Courtney's sil, whose name has suddenly escaped me! Lol. We went for lunch inside the old mill, at it's little crepe restaurant. Yummy. After lunch, it was time for us to go our separate ways... But not before a photo op. I'm the one who looks like a grandma, lol! (After 19 grandkids, I sure should!!) I just couldn't stop grinning! She's as sweet and nice as you can imagine. What a blessing to be able to spend time with her! Thanks for the great day, Ardyth!
And this is the card I made:
For this card, beside the white Bazzill base, I used all patterned scraps! Yay! The stamps are from Lawn Fawn, two sets, a few N&T sequins, and some black SU ink.
My next card was inspired by a pin from one of my boards, found
here
. This will be my second card going into
Simon Says Stamp Wednesday Challenge
. They're "going dotty" over there. This one definitely qualifies!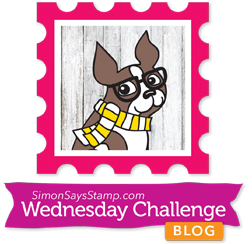 This one really makes me happy. Fun colors, don't you think? It went together really quickly. On top of a white Bazzill base, scraps of both dp and cardstock were used. Some ribbon from Michaels, a Newton's Nook sentiment with SU black ink, and voila, done! I'll stop chatting now, but will be back soon. Happy dances to you today and every day!